Chongqing
Chongqing, referred to as "Chongqing". It is a provincial administrative region, the only municipality directly under the central government in central and Western China, a national central city, a super large city, an international metropolis, an economic, financial, scientific and technological innovation, shipping and trade logistics center in the upper reaches of the Yangtze River, an important strategic fulcrum for the development of the western region, an important connection point between the belt and road initiative and the Yangtze River economic belt, as well as an inland open highland, a beautiful place with beautiful mountains and rivers It is famous for both bridges and mountains. Chongqing is located in the southwest of inland China, with a total area of 82400 square kilometers, governing 38 districts (counties, autonomous counties); in 2018, Chongqing has a permanent population of 31.0179 million, with a regional GDP of 2036.319 billion yuan; it is known as the capital of hot pot in China, the famous city of exhibition and hot spring in the world.
Chongqing is a famous historical and cultural city. In 1189, Zhao Dun, the emperor Guangzong of Song Dynasty, first granted the title of Prince Gong and then the throne, boasting of "double jubilation", hence Chongqing's name. Chongqing is the origin of "Hongyan spirit", the birthplace of Bayu culture, "hot pot" and "Diaojiaolou" have far-reaching influence. In the history of more than 3000 years, Chongqing has been the capital of three countries, four times of city construction, known as "Bayu" in history; during the Anti Japanese war, it was the capital of the national government.
Chongqing is a comprehensive transportation hub in Southwest China, which integrates the East and West and connects the South and the north. Jiangbei Airport is one of the "top ten" airports in China's interior, and Guoyuan port is the largest river rail water intermodal port in China. Chongqing is located in the east of the basin, with the terrain inclined from north to south to the Yangtze River Valley, mainly composed of hills and mountains, accounting for 76%; the Yangtze River runs through the territory from west to East, with a flow of 691km.
Chongqing is the largest industrial and commercial city in Southwest China and an important modern manufacturing base in China. There are 8 national key laboratories, 10 national engineering technology research centers, 67 universities, China (Chongqing) pilot Free Trade Zone, China Singapore (Chongqing) strategic connectivity demonstration project, Liangjiang New Area, Chongqing New Europe International Railway and other strategic projects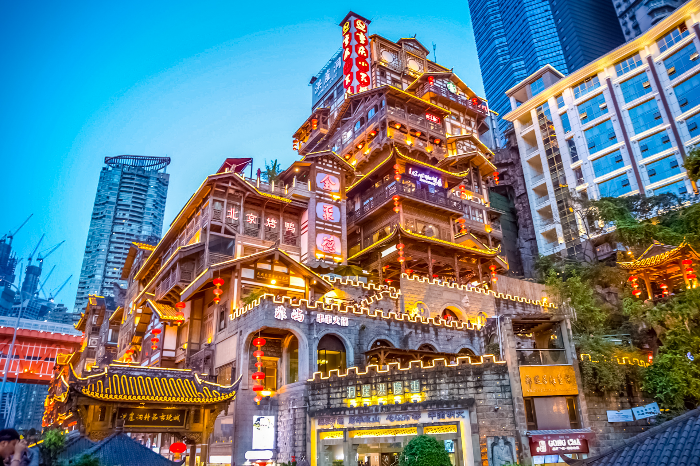 Chinese